JILL'S RAW FOOD DVD
'Filled with good raw ideas.'
-- Aajonus Vonderplanitz, Author of We Want To Live
and The Recipe for Living Without Disease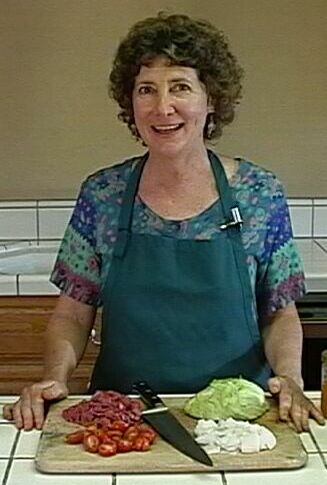 Welcome to my kitchen!
I'm going to prepare many raw food recipes which I have created and adapted over the last 5 years, during which time I have been eating raw food exclusively. Making delicious and nourishing raw food meals is quick and easy. I found out about the principles and benefits of eating raw foods in the book We Want To Live by Aajonus Vonderplanitz. We strongly recommend you read this book before you watch my video!

Click here to see a REALVIDEO of Jill's Raw Food Video right now! If all goes well, this should bring up a dialog box where you choose to open RealPlayer and play the video in it. For slower internet connections, we recommend you download the video by clicking here, and watch it later after it has downloaded. It is free. The file is 1.8 MB long and should play on all computers with the RealVideo Player. If you don't have this free player, you can get it at RealNetworks. If your computer can't play the video, first see if it can play other RealPlayer videos before you contact us. The actual full-length video is of course much longer, full screen, high resolution, but this will give you a sense of what we've done.


It made sense to me to eat this way - but how?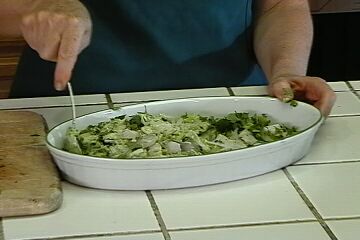 I've been experimenting with various raw food recipes ever since.
As a result, my health has improved tremendously. In this video, I will prepare foods Jon and I eat on a daily basis:
Pesto Sauce
Jill's Goddess Dressing
Asian Fish
Meat, Mushrooms & Pesto
Lemon-Ginger Chicken
Mustard Sauce
Creamy Cheese Sauce
Moorea (an exotic polynesian fish/meat dish)
Skin Formula
Delicious Smoothies
Raw Ice Cream
Nut Butter Dessert
Cheese Custard
I'll also demonstrate:
Preparing meats, fish and chicken
Techniques for efficient food storage
How to select and open coconuts
Making coconut cream
Many uses of eggs
Vegetable juicing, including:



The amounts of juice each vegetable makes
Preserving vegetable juices

Some unsolicited testimonials about our video:
Dear Jon & Jill,
My husband Steve & I love your video! It's really well done...the sound quality, the focus, the lighting...it's obvious that you are experienced in video-making. Jill, you come across really well on camera.
The recipes look easy and delicious...I'm looking forward to trying those meat & sauce recipes.
Thank you both for the time & effort you put into making the video.
Warmly,
Nadine W.
--------------------------------------
I just wanted to let you know that your video was very helpful. It had more than I expected. I really liked how you showed how to store the things you made on the video. I'm so glad that you included those ending credits with all the info.
Thanks for all the work you do to help those starting on the diet.
Tyler C.
-------------------------------------------
Hi Jon Well I got to play the disks on a DVD player and it worked very well. Sampled (viewing) Jill's chicken , mustard section and moorea and the whole presentation looks great - will give proper feedback next week after viewing all and a little experimentation, but already I am getting an appetite for going into it more. As a divorced batchelor it is very easy to get into a rut of boring old dishes with no flair which gradually leads one into trying other things so I think this is a good service...also it seems a lot less extreme the way that you are doing it, and it really does look appetising
I might need to get into a conversation with you again re these fabulous blenders that you have in the USA still cannot believe that there is nothing like in Europe
Congratulations on getting this format sorted out
Regards
Peter L.
-------------------------------------------
Hi,
I just received and watched your raw food video. I found it very interesting and with a lot of good information. It's so great for newbie like me to be able to get information from experienced people.
- Patrick S.
-------------------------------------------
Dear Jill/Jon,
Thanks a lot for sending me your raw food video. I like it a lot and I think it makes an ideal companion to Aajonus' books.
- Reinhard W.
-------------------------------------------
Hi, Jon,
I discovered the sources in your video this past weekend!! I stopped the tape before the recipes the 1st time around. The sources are great - totally organized and easy to read. I love them.
The outtakes were fun!
I am looking forward to your second raw video.
- Mary Beth C.
-------------------------------------------
Jill Fox's video tape, showing how to make RAF recipes, is very informative and professionally done. I was surprised at what a good job Jon and Jill did in putting together this video.
Just wanted to pass this on.
- Catherine T.

All recipes are included in written form at the end of the DVD.

Jill's Raw Food DVD

With extensive "jump-to" chapter selection so you can quickly navigate to the recipes and sources. Crisp, high-quality DVD.
Region-free, it will play on machines from all countries.
Running time: 1 hour, 47 minutes
Price for the Jill's Raw Food DVD: $24.95 US.
Click here to order from our secure server . Once there, click on "DVDs."



[ Return to Catalog | We Want To Live | Home ]



Reach us at:



Mailing Address: Jon C. Fox, P.O. Box 2209, Nevada City, CA 95959, USA

Telephone: (530) 478-1002